Mini Lab Puppies
Blossom Had her puppies 4/22/16
May had her very small litter of 2 puppies on 4/23/16. 1 light yellow male will be available.
Click on photos to enlarge.
See Miniature lab Breed Standard Here: http://www.cpryourdog.com/breed_standards.php?bid=653
Miniature Lab puppies are ready to be shipped at 8 weeks of age and can be picked up locally at 7 weeks of age WITH prior appointment ONLY.
Typical puppy prices:
Black miniature lab puppies - $900
Yellow all shades including whites and fox red miniature labs - $900
Chocolate miniature lab puppies- $900
Merle (very rare only from May or Punkin) $1,200
Blossom's litter below: 2 males are on the left. Please see one of Blossoms previous pups by Willie on our past puppies page.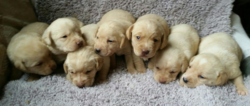 PHILLY AND MISSY Pups when they were 9.5 and 12 wks old. ALL OF THESE PUPPIES HAVE HOMES ALREADY!