Mini Lab Puppies
Philly had her litter by Wooleybear on 12/4/15!!!
Missy had her litter by Kit on 11/19/15!!!!
Punkin had her litter by Willie on 1/10/16
Click on photos to enlarge.
See Miniature lab Breed Standard Here: http://www.cpryourdog.com/breed_standards.php?bid=653
Miniature Lab puppies are ready to be shipped at 8 weeks of age and can be picked up locally at 7 weeks of age WITH prior appointment ONLY.
Typical puppy prices:
Black miniature lab puppies - $900
Yellow all shades including whites and fox red miniature labs - $900
Chocolate miniature lab puppies- $900
Merle (very rare only from May or Punkin) $1,000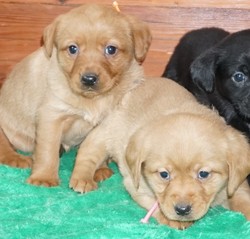 Missy's boys below: 1 black male and 1 yellow male available as of 1/23/16.
Punkin's Litter below: 1st choice Choc Male has been reserved, 2nd choice m reserved and Choc Merle has been reserved. Females on the right.