Mini Lab Puppies
Updated on 8/28
Puppies available!!!
See pictures below! please call or email me for more info!
406-320-2045 or miniaturelabs@gmail.com
Click on photos to enlarge.
Here you can see the size of your puppy. http://www.cpryourdog.com/breed_standards.php?bid=653
Miniature Lab puppies are ready to be shipped at 8 weeks of age and can be picked up locally at 7 weeks of age.
Males available:1
Females available:4
View our "adults 4 sale" page for available miniature labs.
Typical puppy prices below.
Prices will be different for "Sweet Peas" litter.
Fox red miniature lab puppies - $675
Black miniature lab puppies - $675
Yellow miniature labs - $800
Chocolate miniature lab puppies- $800
Merle (very rare only from May) $1,000
White miniature labs $1,000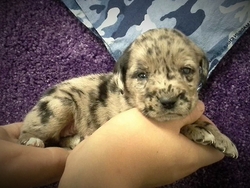 See video of past litter from kit and milly here!